Integrating more nature into our workday will enhance health and happiness
By only working indoors we inhibit creativity, productivity, and well-being. The following information shows you how you can make sure a part of each day includes time working in nature, both outdoors and indoors.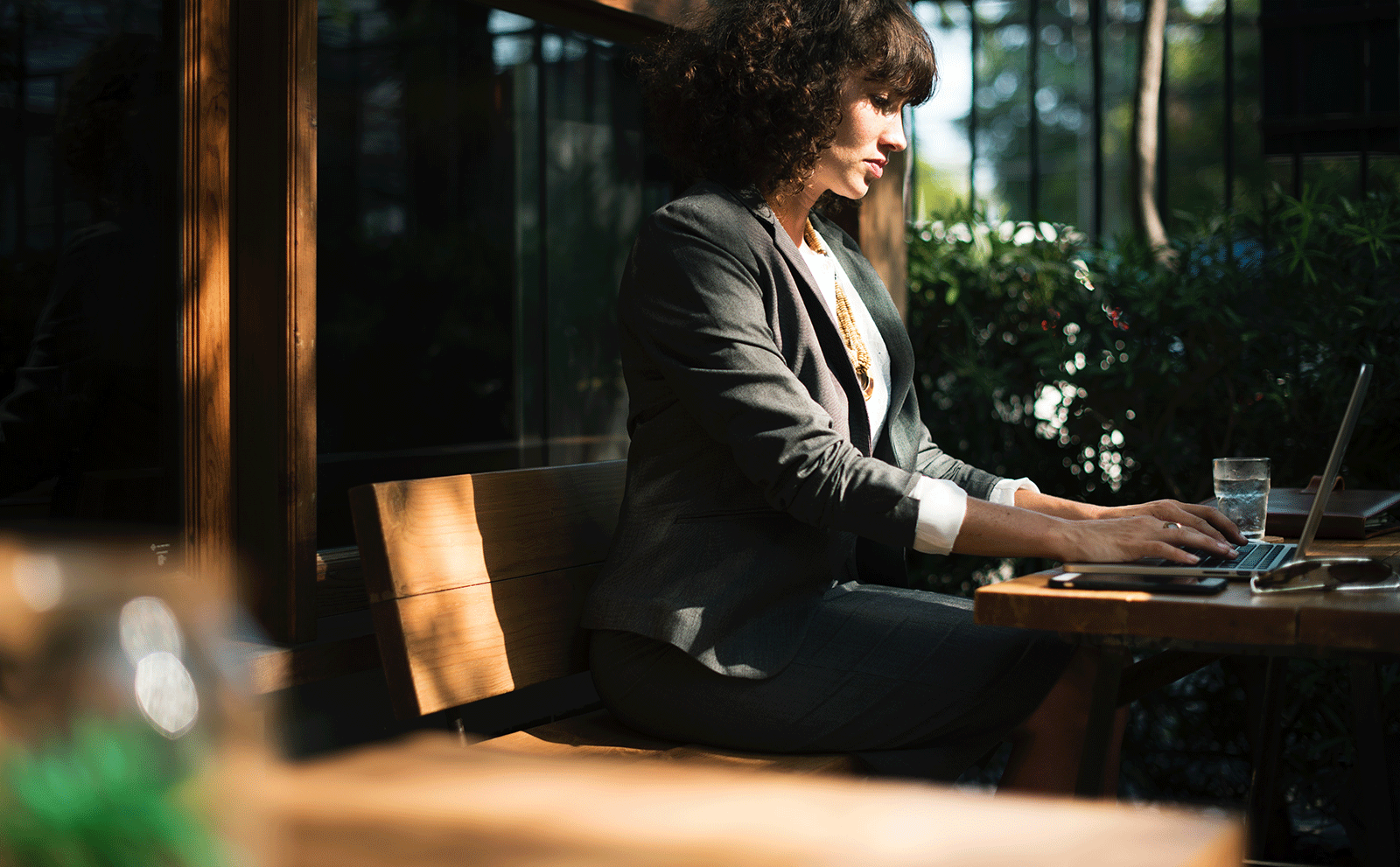 Working in nature brings calm, provides inspiration and lets you focus. Nature also has plenty to offer with mind-blowing sensory experiences, especially views and sounds. It's all integrated in places closer than you think: your garden, neighborhood, parks and nature trails.
Consider these items to make sure your outdoors setting is the perfect place to do your particular type of work.
Places and Nature Elements
Ambiance - Enjoy views and scents of nature, the sounds of water, wind and birds … far from man-made noise, clutter and nuisance
Places in Nature - Look for places that inspire or calm, and are conducive to many types of work. Excite your senses of sight, sound, smell and touch.
Natural Elements - Trees and plant life, water, natural light, fresh air, animal activity (birds and insects singing) are awesome in richness, energy and activity.
Nearby Nature - Stay close…backyards, gardens, patios, office green space, local parks, outdoor cafés and restaurants, neighborhood hike and bike trails, local nature centers.
Nature Immersion - State and national parks, cabins and rentals in natural settings, lakes, rivers, streams. These resources pack the best of nature in its most pristine state
Amenities
Water and nourishment - Bring your own or seek out places with nearby sidewalk cafes, vendors in green spaces.
Facilities - Natural or human-made workspace, restrooms, trails, benches, tables, shade. Objective is to keep working conditions comfortable.
Accessible - Walking, biking or short driving distances, available parking
Connectivity – Power and Internet available. Consider portable power devices when electric power is not available.
Considerations
Weather - Wear appropriate clothing and topical protection.
Exposure - Prepare to protect against harsh elements such as weather (sun, cold, rain) or plants (allergies), and animals and insects.
Security - Secure belongings, be aware of people and surroundings.
Etiquette - Be respectful of the place and people also enjoying that location.
Gear list for a great experience outdoors
Daypack, bag (to carry gear)
Healthy snacks (fruit, nuts, protein bar)
Laptop, pad, smartphone, headphones, journal or book
(easy to carry and meet needs of what you want to accomplish that day)
Extra battery and charger for your phone, pad
Throw blanket or ultralight chair
Clothes (appropriate for current weather conditions)
Shoes (hiking/walking shoes, easy-on shoes, water shoes)

Shade (hat, umbrella, natural)
Research and testing prove that people are more creative and productive when they use nature as a part of their work environment.
Use these guidelines to bring the outdoors into your workplace.
Bringing nature into your workspace.
Use areas near windows to enjoy fresh air and natural light.
Hang images of nature in your space.
Select nature screensavers for computers.
Add plants to personal space.
Create garden-like areas in collaborative areas.
Add indoor fountains for the sound of water.
Use ambient sounds of nature on digital devices.
Bring pets into the workspace.
Use natural materials in decor and interior design.
Nature environments – Atriums, Aquariums, Natural History Museums
Additional information you can use to improve your workspace is below.